Summer is in full swing!
Gear up for the most fun month of the year in America's Finest City!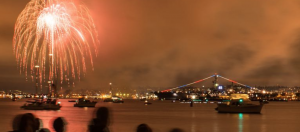 Celebrate Fourth of July
With These Fireworks and Celebrations
Whether you're traveling with friends or family, San Diego is everyone's first choice for great Fourth of July celebrations. Get ready to stretch out on an inviting expanse of sand and watch some extraordinary pyrotechnics against a balmy night sky. Here's our list of favorite beachside viewpoints, spectacular fireworks shows and other places to go "Fourth" and enjoy the festivities around San Diego. Book your room now for a great before before we are sold out!
Port of San Diego Big Bay Boom!
Southern California's Largest Fireworks Show
The Port of San Diego Big Bay Boom July 4th Fireworks Show is back, promising another spectacular display over San Diego Bay. Fireworks will be discharged simultaneously from barges placed strategically around the Bay off Shelter Island, Harbor Island, Embarcadero North, Marina District and Coronado Ferry Landing. The impeccably choreographed display will last approximately 18 minutes.
Come down to the bay and enjoy the biggest fireworks show in San Diego!
The fireworks score is simulcast live on 101.5 KGB.
The Big Bay Boom fireworks show is displayed from Four barges on San Diego Bay at 9 PM. Bring your lawnchairs, friends and boats to watch from these locations:Where to Watch
Shelter Island
Harbor Island
North Embarcadero
Marina District
Coronado Ferry Landing
Boating/On the Water
Boaters
Safety First!
Observe the 1,000 feet safety zones around the barges.
Keep a lookout for boats around you.
Have a life jacket for each person on board.
Use the proper signals and navigation lights.
Arrive before dark.
Parking and Shuttles
Come to San Diego Bay for the fireworks – but try not to bring your car. Parking along San Diego Bay fills up quickly. Get there early and plan where to park. We strongly encourage you to use our transportation partners.