Bask in San Diego's summer glow
Take in outdoor concerts, street art, stage happenings, paddling adventures and more. Book your summer rate now directly though our website and enjoy our centrally placed hotel with easy access to the freeway and walking distance to all shops and restaurants in Old Town San Diego!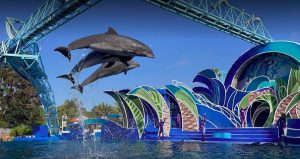 Electric Ocean at SeaWorld
An award-winning summer nighttime celebration!
Get ready for fun summer days and fiery summer nights at SeaWorld's Electric Ocean! Come early and stay late for day-to-night excitement and ALL-NEW surprises this season, from the rocking Adrenaline stunt show and bioluminescent musical experience of Electroblast to a thrilling lineup of live concerts at Bayside Amphitheater.
Experience every fresh moment of entertainment along with familiar favorites like our Club Sea Glow DJ dance party, illuminating décor, and exhilarating street performances. And don't end your night without looking up at Ignite, the fireworks spectacular that brings the brilliant colors of the sea to the skies above!
Immerse yourself in light, music, and your favorite SeaWorld attractions Now -Aug. 14.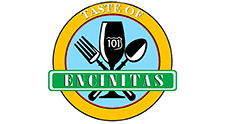 2022 Annual Taste of Encinitas
Treat your taste buds to food samples from 30+ restaurants and enjoy local wine and craft beer served at 19 Sip Stops the Encinitas Taste of MainStreet.
Don't miss the best event in downtown Encinitas!  Treat your taste buds to food and drink samples from 15+ restaurants and enjoy local wine and local craft beer served at 20 Sip Stops hosted by shops and salons.  There will be non-alcoholic sip stops throughout town as well!  Pause along the way to enjoy live music at several venues.
To help make this year's Taste of Encinitas easier on the environment, Encinitas 101 will be supplying each participant with a reusable Encinitas 101 MainStreet takeaway cup, sponsored by the newly open C3 Bank! Participating restaurants are being encouraged to minimize waste and use eco-friendly plates and utensils. Additionally, for the third year, the event will not permit the use of Styrofoam. Grab your tickets now!
Carlsbad Music Festival
Adventurous music by the beach!
Carlsbad Music Festival is back! Our 18th Annual Festival will feature dozens of adventurous and eclectic artists going on August 5-7.
Carlsbad Music Festival is a non-profit organization that presents "adventurous music by the beach." Its flagship event is its annual namesake festival, which features musicians from around the world and from the local community. CMF showcases music from a wide array of backgrounds all under the umbrella of "adventurous music": new classical, indie rock, jazz, Latin, experimental, folk, music from cultures around the globe, and the uncategorizable. CMF is committed to presenting and supporting emerging musicians, established masters, and obscure innovators.
Carlsbad Music Festival is an artist-led, grass-roots organization that strives to be both a cherished local event and a destination music festival at the forefront of the field. CMF is committed to facilitating the power of music to bring people together, to express the range of human emotion, to offer insights into other cultures, to allow glimpses into worlds we've never imagined, and to make our bodies and spirits move.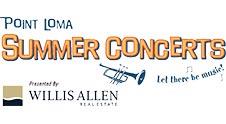 Point Loma Summer Concerts
Since 2001, Point Loma Summer Concerts has been bringing family-friendly concerts to Point Loma Park, with crowds swelling to nearly 3,000. The concerts are now a community tradition, with strolling teenagers who attended their first concerts in strollers.
While many aspects of the concerts have changed over the years, the warm community atmosphere remains the same – as do many of the concert's sponsors, including the original presenting sponsor, Willis Allen Real Estate, which hasn't missed a season, the City of San Diego Commission for Arts and Culture, the County of San Diego, and many local businesses and local civic groups.
Our mission is to support music education in the schools. Each year, the Board of Directors allocates proceeds from raffle ticket sales to local schools and music-related nonprofits.
Point Loma Park is located at 1049 Catalina Boulevard, near the intersection of Varona Street. Free parking is provided at All Souls' Episcopal Church, located at 1475 Catalina Boulevard. Enter the parking lot on Chatsworth Boulevard. The free shuttle runs between All Souls' parking lot and the Point Loma Park from 5:30 p.m. – 8:45 p.m.