Transplant Games July 29-August 3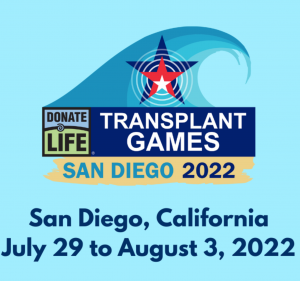 Produced by the Transplant Life Foundation, the Transplant Games honor the lasting legacy of donors who gave the ultimate gift of life. They highlight the need for and importance of organ, eye, and tissue donation and celebrate the success of transplantation.
Join the transplant community for a unique event that provides a platform of change that will affect participants for years to come. Book your stay with us now for the best rates on the internet.
Every two years the Transplant Games of America gathers together thousands of transplant recipients, living donors, donor families and individuals on the waiting list. Caregivers, transplant professionals, supporters and spectators for the world's largest celebration of life.
During this truly unique and inspiring week, 40 state teams and several international teams (i.e. Brazil, Australia, India), compete in twenty athletic and recreational competitions. In addition to these medaling events, there are over sixty special events held throughout the Games meant for all attendees to enjoy.
These events not only serve as an opportunity for donor families, but it celebrates donors who gave the selfless gift of life. At the Transplant Games, recipients are given the chance to show the world that having a transplant is a second chance at a full, productive, and inspiring life. View Room Selections Now
To increase awareness of the life-restoring importance of organ, cornea, bone marrow, and tissue donation through the lives of the athlete-recipients and the lasting legacy of their donors. To involve the entire transplant community – recipients, living donors, donor families, individuals awaiting transplantation, caregivers, medical professionals, recovery agencies, transplant centers, and other related organizations – in a shared mission to highlight the benefits of donation.
To increase the number of potential donors, state-by-state and on the National Donate Life Registry, by supporting existing campaigns and harnessing the energy and drive of the transplant community through the Transplant Games, partnerships, marketing, and related communications.