Marines: Fight. Evolve. Win.
The commanding officer of Marine Corps Air Station Miramar, Col. Thomas M. Bedell, and the commanding general of the 3rd Marine Aircraft Wing, Maj. Gen. Bradford J. Gering, invite the San Diego community and aviation enthusiasts to the 2022 MCAS Miramar Air Show, Sept. 23-25. The theme of this year's air show is "Marines: Fight, Evolve, Win." and is a direct reflection of the Commandant of the Marine Corps Force Design 2030 program and the technical innovations the service is undertaking to remain the 21st century's force in readiness.
Guests can count on seeing the Marine Corps' F-35B demonstration, the unique Marine Air-Ground Task Force demonstration, the Air Force's F-22 Raptor demonstration team, Aaron Fitzgerald flying the Red Bull Helicopter, a 5G Technology Expo and much more. Book your room today at a great rate prior to the event.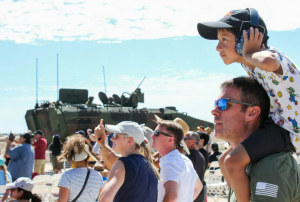 On September 22-24, 2023, the largest military air show is returning to provide a unique and special flight line experience with immersive experiences, static displays, and daytime shows that feature military demonstration teams, civilian aerobatic teams, aerial solo acts, vintage aircraft and warbirds.
Experience the feeling of flight for yourself in one of the many simulators we have on the flight line and in the Innovation Tech Expo. The Miramar Air Show is an event that will give you, friends, and family memories you won't forget. The air show is open Friday, Saturday, Sunday to the public.
Enjoy front row seating at our exclusive military-themed chalet! Relax in comfortable lounge chairs and couches under a shaded tent with free soda, water, and a complimentary full bar. Each guest will receive a breakfast, buffet lunch, and snacks as well as a souvenir Air Show poster, program, and coin.
Experience a unique blend of excitement and comfort inside the Semper Fi Chalet! This experience will include outdoor seating and a shaded dining area with complimentary beer, wine, soda, and water. Each guest will receive a continental breakfast, buffet lunch, and snacks in addition to a souvenir Air Show program.
Join us in our all-new Stars and Stripes Chalet, the ultimate family Air Show adventure! Guests will have access to shaded seating and children will be able to enjoy activities. Meals in this chalet will be family-friendly and include complimentary soda and water. Each guest will receive a souvenir Air Show program.
Observation Deck includes shaded and unshaded seating and complimentary water. Food items and snacks from a small food court inside the chalet will be available for purchase. Each guest will receive a souvenir Air Show program. Book Today or Get More Information.