Get Out There!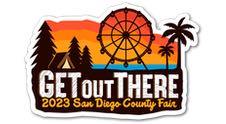 Adventure awaits at the 2023 San Diego County Fair – "Get Out There!" to explore the great outdoors and get s'more of what life has to offer Wednesday, June 7 through Tuesday, July 4 at the Del Mar Fairgrounds. Scout out Best-of-Show winners in the Fair's competitive exhibitions. Reach new heights as you spin upside-down in the FunZone. Hike around San Diego Grown to learn all about local agriculture from food to fiber to flowers. Be prepared for an unsurpassed line-up of entertainment on the fair's featured stages. Summer camp has never been so much fun! Book your summer rate now at our hotel and enjoy the 20 minute drive north to this great event.
All Fair Admission & Parking tickets must be purchased online in advance. Enjoy great concerts all through June and early July from Train to Lynyrd Skynyrd. Competitions, animals and great food options. Experience all that the fair has to offer June 7- July 4th only in Del Mar. The Del Mar Fairgrounds and the San Diego County Fair are owned and operated by the the 22nd District Agricultural Association, a State of California agency operating under the California Department of Food and Agriculture (CDFA).
The San Diego County Fair began a tradition of annual themes starting in 1980, when the Fair celebrated 100 years. The themes were agricultural in nature until 1998, when the celebration of California's Sesquicentennial lent itself to a theme exhibit on the state's history.
The Fair has been known by three names during its history: The San Diego County Fair from 1880 to 1953 and from 2002 to present; as the Southern California Exposition and San Diego County Fair from 1954 to 1969; as the Southern California Exposition from 1970 to 1982; and as the Del Mar Fair from 1983 through 2001. These names are sometimes reflected in the theme.
To better serve Fair guests, the San Diego County Fair is moving to a cashless payment experience. Cashless payments are safer and faster, too–avoid wait times at the gate and spend more time enjoying the Fair!