San Diego's Pride celebration stretches well into July culminating with the Pride Parade and Festival July 16-17, 2022.
Formed in 1974 as a sponsored program of The Center for Social Services, we produced the first Lesbian and Gay Parade in San Diego to celebrate the 1969 Stonewall Rebellion on New York's Christopher Street. San Diego Pride incorporated as a 501(c)(3) nonprofit organization in 1994, and today it continues to bring together the skills, talents, and visions of our diverse community through numerous programs.
San Diego Pride raises funds primarily through festival ticket and beverage sales, and through sponsorships, and exhibitor fees. These funds support San Diego Pride's community philanthropy which has distributed more than $2.5 million in advancement of its mission to foster pride, equality, and respect for all lesbian, gay, bisexual, and transgender communities locally, nationally, and globally. For more information on the event click here now.
The full week of festival activities include:
She Fest
She Fest is a woman-centered event that celebrates and supports the talents and contributions of women while fostering meaningful connections within the LGBT and larger San Diego community.
When: Saturday, July 9, 2022 12-6 PM at Hillcrest Flag
Light Up the Cathedral
You are invited to join LGBTQ Faith Leaders and Faithful. Join Dean Penny Bridges and other Faith Leaders as we gather together, in-person to celebrate our faith and resilience. After the service, the Cathedral will be lit in rainbow colors.
When: Wednesday, July 13, 2022 @ 7 PM
Where: St. Paul's Episcopal Cathedral
The Rally
Kick-off San Diego Pride weekend as we listen to inspiring speakers, recognize LGBTQ leaders, and raise the Pride flag.
When: Friday, July 15, 2022 @ 6 PM – 7 PM
Pride 5k
Run the parade route right before the parade starts in our annual Pride 5K! Rainbow gear, tutus, and streamers encouraged.
When: Saturday, July 16, 2022 @ 8 AM
The Parade
San Diego's Pride Parade is the largest single-day civic event in the region and is among the largest Prides in the United States, attracting over 300,000 cheering supporters of the LGBTQ community.
When: Saturday, July 16, 2022 @ 10 AM
The Festival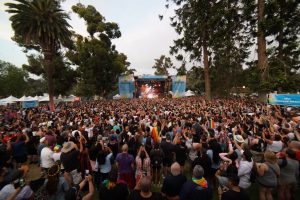 San Diego's biggest summer party is calling your name! Celebrate diversity and inclusion in Balboa Park with community resources, booths, and four stages of live entertainment.
When: Saturday, July 16, 2022 @ 11 AM – 10 PM |
Sunday, July 17, 2022 @ 11 AM – 9 PM
For a list of other fun and exciting places to visit and dine please click here now.