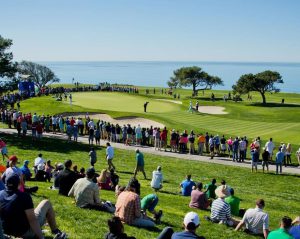 Kick start the New Year in San Diego!
Events in America's Finest City range from testing ones stamina to experiencing some world class golf this January. If you are planning to get away or coming in on business book your special room rate now and stay central to all major locations.
Farmers Insurance Open
An official PGA TOUR event
The PGA TOUR's Farmers Insurance Open is played annually at the Torrey Pines Golf Course in La Jolla, home of the 2008 & 2021 U.S. Open. Mark your calendars now, because one of San Diego's biggest events of the year returns January 25-28, 2023 at the iconic Torrey Pines Golf Course. We are excited to welcome fans back to the course for this year's tournament to experience San Diego's premiere social & golf event.  Don't miss out on the breathtaking views, world-class golf, and an unrivaled experience at Torrey Pines. Get tickets now 
San Diego's Year Round Whale Watching Schedule
Experience the magic of migrating whales year-round! Whether you're looking to get up close and personal or witness whales from the shore, there are tons of ways to enjoy these magnificent creatures off the coast of San Diego.
Winter & Spring Gray Whale Watching
Migration Period: Mid-December – April
Each year, more than 20,000 gray whales make a 10,000 mile round-trip journey from Alaska to the lagoons of Baja California, where the females give birth to their calves. After spending time in warm Baja California waters so their young can grow strong, they make the journey north again in spring. The longest known distance any mammal migrates on an annual basis, it is truly an extraordinary spectacle to observe. With 70 miles of coastline directly in the migration path, San Diego is an ideal destination to see this impressive parade of gentle giants. According to the Birch Aquarium in San Diego, gray whales generally travel alone or in pods of two or three but more may be seen traveling together during peak migration season. These giants are roughly the width of a basketball court and cruise at an average speed of five knots (about six miles per hour).
San Diego Brew Fest
70+ Breweries, 200 Beers & 10 Food Trucks
The 12th annual San Diego Brew Festival finally returns! The event will feature over 70 breweries, 200 beers, 10 of San Diego's best food trucks as well as cover bands and lawn games. The 2023 SD Brew Fest will take place at NTC park from noon to 4pm on January 7th. Get more information now.
San Diego Black Film Festival
Established in 2002 and held each year during the last week of January, the San Diego Black Film Festival has grown to become one of the largest black film festivals in the country. We screen over 100 films each year: Comedy, Drama, Documentaries, Animation, GLBT, Horror, Religious, Foreign/African Diaspora, Shorts, Feature Films and music videos.
As the first and largest black film festival of the year, numerous other festival reps scout new films from us for their event. Simply put, each year the San Diego Black Film Festival will premiere a large percentage of the independent black films that will prove successful throughout the year at other film festivals. Get tickets now.