Traditional and Authentic Celebrations
Honor lost loved ones and immerse yourself in traditional and authentic Mexican Día de los Muertos (Day of the Dead) celebrations throughout San Diego. Book your stay now and stay in the central hub of all the major activities surrounding this October event.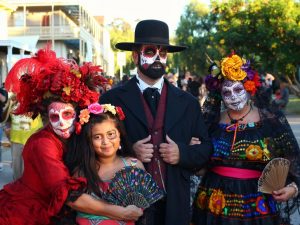 Day of the Dead Celebrations
Sherman Heights Día de los Muertos
When: October 13 – November 2, 2022
Embrace Mexican culture during Sherman Heights' Dia de los Muertos with a traditional celebration, official altar blessing, live performances, food and more.
Oceanside Día de los Muertos Festival
When: October 23, 2022
21st Annual Dia de los Muertos in Downtown Oceanside will have altars, arts & crafts, por siempre car show, a chalk cemetery and more!
Chula Vista Third Avenue Village's Día de los Muertos
When: October 29, 2022
Stroll along Third Avenue and take in the ofrendas (offerings), tastes and music as we celebrate our inaugural Día de los Muertos Celebration in the heart of Chula Vista.
When: October 29-30, 2022 & November 2, 2022
It's the time of the year where we reunite the living and the dead. The tradition of Día de los Muertos continues in Old Town this year, with a Mercado del arte and Procesión to the Cemetery.
City Heights Día de los Muertos
When: October 29, 2022
Celebrate the lives of friends and relatives who have passed away at the City Heights Dia de Los Muertos. People of all cultures will come together for community altars, face painting, mask making, and prizes for the best catrina and catrin contest, plus dancing, singing and music.
When: October 29, 2022
This annual family-friendly "Day of the Dead" festival will include continuous performances by some of the best Latin talent in San Diego, plus art-making workshops, artist demonstrations, student exhibitions, live Mariachi and other musical performances, as well as food trucks, opportunity drawings, vendors and giveaways.
"El último sueño de Frida y Diego (The Last Dream of Frida and Diego)"
When: October 29 – November 6, 2022
San Diego Opera opens its season with this world-premiere opera that revolves around the Day of the Dead. In the piece by Grammy Award-winning composer Gabriela Lena Frank, the great muralist Diego Rivera — surrounded by candles and the fragrance of marigolds on Dia de Los Muertos — longs to see his deceased wife, the beloved painter Frida Kahlo, once more. With help from Catrina, the keeper of the souls, Frida and Diego will spend 24 hours reliving their tumultuous love through their paintings and embracing the passion they shared. (San Diego Opera is also hosting numerous community events in conjunction with "The Last Dream" through the run of the production.)
A Día de los Muertos Celebration
When: October 30, 2022
For our second Día de los Muertos Celebration at The Rady Shell, the San Diego Symphony will present an evening honoring Latinx music and culture, and memorializing those who have passed on.
When: November 1, 2022
The California Center for the arts will stay true to tradition and have altars, dance performances by the Aztec dance group Xinachtli and Tierra Caliente Academy of Arts, craft tables, an outdoor DJ and an artisan craft market.