Bike the Bay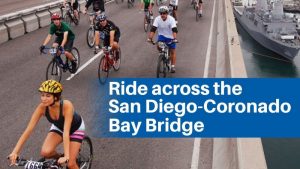 Bike the Bay is back in person on Sunday, August 28, 2022! Ride from the comfort of your own saddle, at your own pace, on your own time. Book your stay with covered parking and a storage area for your bike.
Proceeds from the Bike the Bay ride will benefit the San Diego County Bicycle Coalition (SDCBC), a non-profit organization dedicated to making bicycling better in San Diego.
Ride the bridge, Bike the Bay! Cruise around the San Diego Bay and enjoy your only opportunity to ride across the San Diego Coronado Bay Bridge. This non-competitive community bike ride is for riders of all abilities and will take you on a scenic, and primarily flat ride, around the San Diego Bay via the Bayshore Bikeway.
Along the way, riders will travel through the surrounding cities of Coronado, Imperial Beach, Chula Vista and National City before finishing back at the start/finish line at Embarcadero Marina Park in downtown San Diego.
Not only will the scenic 25-mile route travel through all five of these very diverse communities but it will also allow riders their only opportunity of the year to ride over the beautiful Coronado Bay Bridge. All riders will return to San Diego for a post-ride festival with food, beverage, beer garden and entertainment.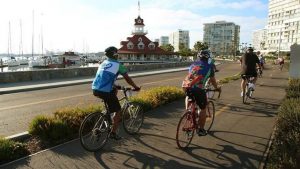 Embarcadero Marina Park South
1 Marina Park Way
San Diego, CA 92101
Directions
Date & Time
Aug 28, 2022
7:00 AM – 11:00 AM
Price
$70